13th January at Skehanagh Park
Under-17
Watergrasshill – 0
Carrigtwohill – 1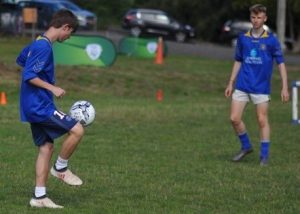 For their first league match of 2019, after the interlude of the Super Cup last week, Carrigtwohill's Under-17's had a tricky trip away to Watergrasshill. The pitch at Skehanagh Park was not in the best condition, with grass that could have been shorter and a very soft surface rendered uneven by recent matches.
Nothing unusual this time of year however, and the ambition was to continue the series of good results which has seen Carrigtwohill Youth's unbeaten in the league since the defeat at St Mary's on the 11th of September!
Carrigtwohill showed their positive intentions from the outset and played good football, concentrating on passing the ball forward despite the tricky surface. Watergrasshill, however, were very well organised at the back, showing that the mid-table ranking is no accident. The back four withstood the challenge, intercepting through balls, getting under the high ball and recovering brilliantly under pressure. Carrigtwohill did have chances when both Robert Adam and Evan Donnelly came close with their shots. On the counter, Watergrasshill were dangerous but the back four – Captain James Shaugnessy, Sean de Burca, Ebe Imho and Alex Canty were on high alert.
This pattern of play went on for the first 70 minutes and might have carried on but for two changes in the visitors' shape. James Barry who was having an outstanding game as sentinel in front of the back 4, competing on every ball, and dribbling his way out of trouble with skill, was replaced by Jack Nolan to try to bring play a bit higher up the pitch and Rian Notley moved from the left wing to the centre forward position to change the pattern of attack. Within minutes, great work on the right wing delivered a pull back for Sidas Pilivicious whose crossed found Rian Notley unmarked in the box. He made no mistake and beat the Watergrasshill keeper with his low shot in the corner of the goal.
There was about 15 minutes left at that stage and Carrigtwohill kept pushing for a second goal until the last 5 minutes where the home threw everything they had in the bag in search of an equaliser. The visitors held on however, to take their tally to 18 points and climb to third spot in the league table.
Man of the match to an attacker this time around, Rian Notley, who pushed for 90 minutes and moved from the wing to the centre and back, scoring with composure the only goal of the match.
Man of the Match: Rian Notley