The parents and management of Carrigtwohill United's Under 13 soccer team organised a trip of a life time for 17 lucky players and 12 adults to travel to Manchester City Academy for a train and play experience of a lifetime, and being a first for the club it is hoped that it will be an annual event.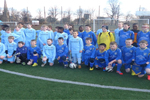 It took off with a 3am start on Friday morning 29th March with an enjoyable bus trip, supplied by Eirebus, to Dublin Port with breakfast supplied by SuperValu Midleton for the journey, arriving at Dublin Port we boarded Irish Ferries, Ulysses, to travel to Holyhead were the players had great freedom on the boat and met up with players from other clubs. When we arrived in Holyhead we had a lovely spin through North Wales snow-capped mountains and coastal drive on to Manchester, on arriving in Manchester we went to Manchester United's home ground to experience the Old Trafford tour of the museum, trophy cabinet, grounds and onto the mega store were the players would have spent their life savings if they had got away with it, then onto a very cold Manchester City Academy grounds to train and meet with coaches from the Academy and the players were put through drills that were new to them and finished up with a game between themselves and from their onto the hotel in Wigan were we all enjoyed a good night's sleep after a long day.
Saturday morn started with going back to Manchester City Academy and to play against their finest under 13 team , there were two teams, eight aside, managed by Martin Jones and Jason Waters, and each team played two, forty minute games, after swapping pennant's the games got under way, we thought we were up against the best but we managed to match every goal that they scored against us, team one, goals from Richard Silvas, Cian Thorton and a hat trick from Shane O'Hanlon who captained his team, team two, goals from Billy Scully, Jason Collins, Tommy Jenkinson Butler and team captain Aaron Hutchinson rattling the post more than once, and on reports from both managers everybody on both teams played outstanding and all gave 110%, even though we didn't win any of our games we really put it up to the opposition and gave them a good run for their money, at the end of the matches the head coach of Manchester City Academy, who watched all the games from the side line, had a good few words of inspiration for our players especially our keeper Kudzai Mhondiwa who had two great games and even saved a penalty.
After having a great morning in the Academy the players were getting geared up for the big Premiership game between Manchester City and Newcastle, we made our way to Etihad Stadium where we were seated right behind Joe Hart's goal (City's goalkeeper) for the first half and had a good view of the action in the second half as all the second half action was played right in front of us and seeing City's two second half goals, as they beat Newcastle 4-0, you could see from the excitement in the boys eyes that they really enjoyed the game as they all sat together watching the game. From there we made our way from Etihad Stadium back to our Hotel and what I remember from that night is all the boys in one Hotel room watching Match of the Day on TV and waiting for the Man City game to see if they could see themselves on the TV, and they did with excitement, eventually, with everybody getting to bed we rose early the next morning for the pleasant twelve hour return journey back to Carrigtwohill.
As Chairman of this wonderful trip I would like to take this opportunity to thank Joan Scully (treasurer), Margaret Rooney (Secretary), Gabriel Jenkinson Butler (Assistant Secretary) and parents for all the help in organising and fund raising over the last six months for the running of the event, the Club Chairman Barry McGrath and Steve Moore club Secretary for organising the Tour jackets from Carrigtwohill Utd, "Topflight Tour Operators" who managed all the bookings, transfers and accommodation for the trip, and finally, the people of Carrigtwohill who dug deep into their pockets for Xmas Hamper tickets, Texas Hold'em, Golden Goal tickets and car washes, a big thank you for helping out, Gerard O'Hanlon, Tour Chairman.