League v Leeside in Ballyadam Park on Sunday 5th June 2016
Carrigtwohill United 6 Leeside 1
Scorers – Darragh Hoare, Evan Donnelly, Alex Canty (2), Abdul Rahim, Joshua Joesph.
This was Carrigtwohill's final home game against their near neighbours Leeside and it was as vital a match as the away fixture was 6 weeks ago. On this occasion, a win was required in order to guarantee Division 3 soccer for this squad next season so it was really important that the team were focused and ready. Matches like this can be difficult and nervy but this was completely the opposite. In fact, it was a case of everything going right for the home team from the kick-off.
Carrigtwohill found themselves 3 goals ahead after 10 minutes as Leeside found it hard to deal with the movement and pace of the home team. An opening goal by Darragh Hoare, followed quickly by goals from Evan Donnelly and Alex Canty was a fabulous start and the tense atmosphere on the sideline was now relaxed. Each of the three goals was the result of good interplay between the Carrigtwohill forwards, but Leeside to their credit were not going to lie down. Once they had time to compose themselves they re-organised their defence and were able to subdue the Carrigtwohill attack. The remainder of the first half was played out with chances for both teams. Just before half time, Leeside were to strike for a classic counter-attack goal, when their forward sprung the off-side trap and finished calmly to put a different complexion on the game at half-time.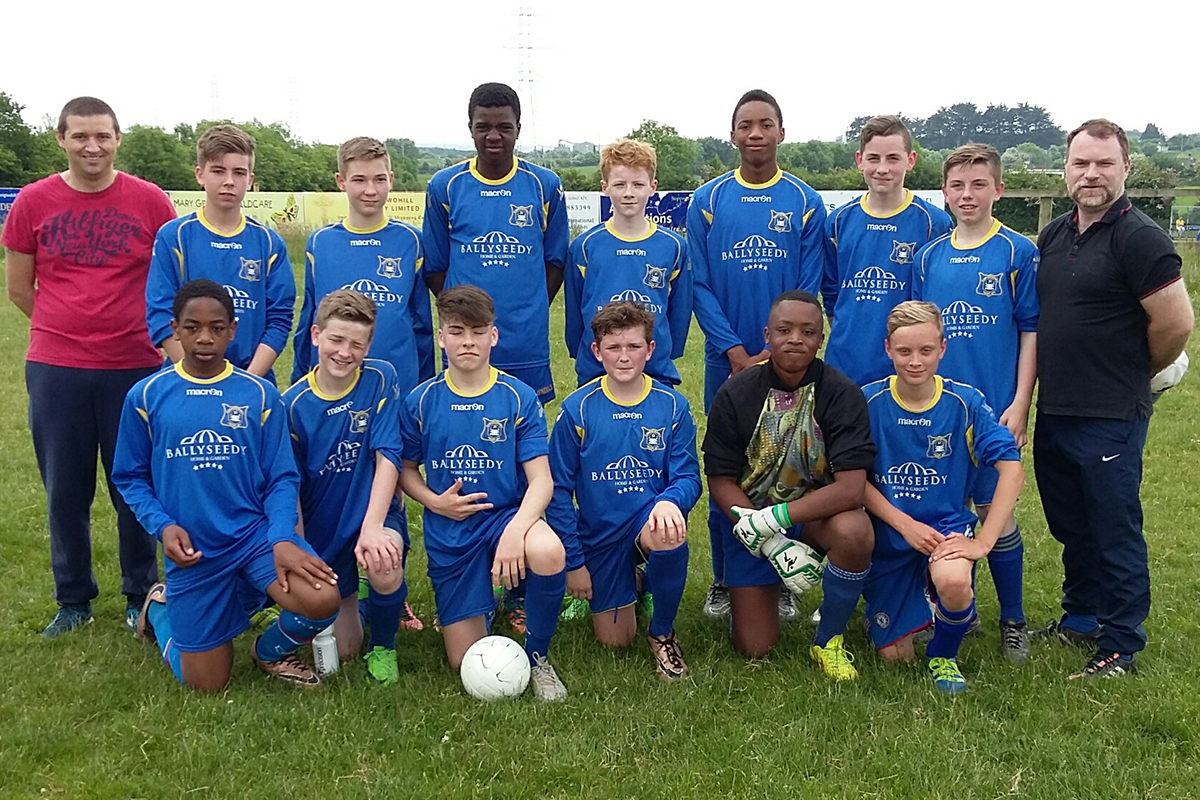 However, it was Carrigtwohill who were to strike first in the second half, when Alex Canty, making a superb run from midfield played a one-two and nailed the return into the back of the net. Abdul Rahim continued his red-hot goal scoring form by scoring a superb long distance shot into the roof of the net – certainly goal of the game any other day. However, this game was to be marked by a spectacular goal-of-the-season from Joshua Joesph. Playing at left-back, Joshua picked up the ball in his own half and beat four players before switching the ball onto his right foot and floating it into the top right hand corner of the net. It was a goal worthy of a higher stage – a YouTube moment no doubt.
A match of seven goals was also notable by some superb defensive performances with Ronan Ymedi again dominant at centre back and effortless in his distribution. Both goalkeepers pulled off some great saves.
It was a solid clinical performance by the home team on a sunny Sunday morning who now look forward to their last league game away from home in relaxed fashion.
Player of the Match : Ronan Ymedi.