League v Innishvilla in Ballyadam Park on Sunday 4th December 2016.
Carrigtwohill United 4 Innishvilla 2
Scorers – Kyle Graham, Ryan Wolfe 2, Zack Griffin.
In Ireland, soccer is a winter sport and last year, that meant 4 months of match cancellations. This year is different and the matches, at least in Ballyadam, have kept going on without any interruptions.
Today saw Carrig's u12s take on Innishvilla's youngsters in a great match. The weather was cold and breezy, but conditions were good enough for winter soccer in December and both teams got into action from the outset. The match was even enough in the first 10 minutes, but Carrig took control little by little, especially in the middle of the field where Daniel Murnane and Dylan Curran recovered ball after ball.
Still Innishvilla were well organised and a first goal proved elusive until a well-crafted corner fell to Kyle Graham who fired into the net from close. This confirmed Carrig's dominance and soon after Ryan Wolfe ran in from the left, got passed two players and took on the goalkeeper. The keeper came out bravely but Ryan calmly rolled the ball past him. That was the score at half time.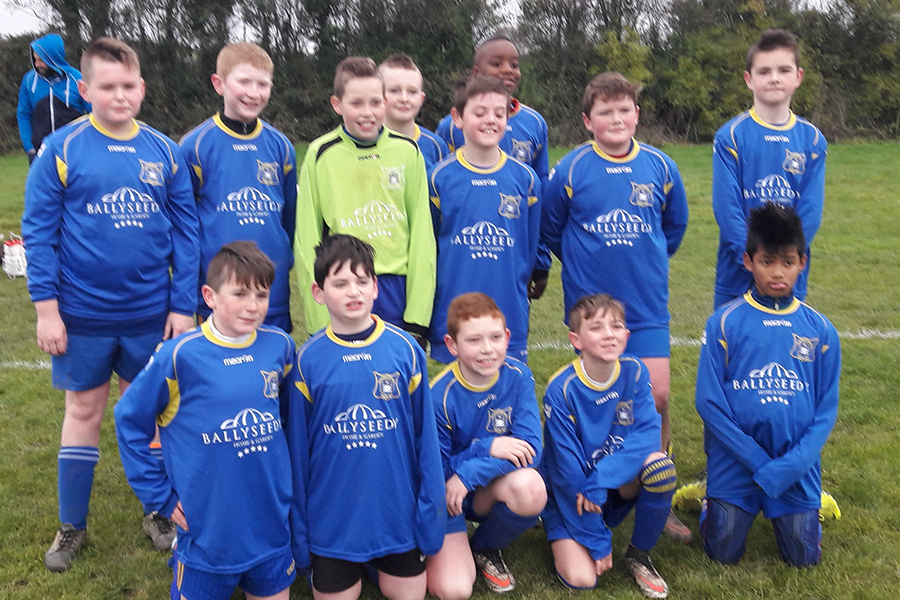 The second half restarted on the same basis as the first half had ended on and Carrig were in control. Superb interplay between Daniel and Ryan W soon produce a lovely wide ball for Zack Griffin who controlled and riffled the ball across goals inside the post. That was really super work from the lads.
But then, as all seemed to be fine, Carrig started dropping back and left the initiative to Innishvilla in mid field. As the visitors got into attack, it was only a matter of time before a chance would fall to them and it soon did for 3-1. That was all Innishvilla needed to restart their game and they were soon awarded a harsh penalty for involuntary handball in the box. When that was expertly dispatched, the game was definitely on again.
Following the advice from the touchline however, Carrig went forward again and pushed Innishvilla back again. Ryan Wolfe ran onto a long ball to take on the keeper for the second time with the same outcome! At 4-2 with minutes to play, the game was in the bag and Carrig kept pushing, getting close a couple of times.
A great day's work for Carrig's U12s and a super performance from a number of players, including a man of the match display from Ben O'Sullivan, first at the back and then in midfield where he robbed and cleared the ball more times than anyone could remember. Well done Ben!
Player of the Match – Ben O'Sullivan