League v Passage United in Ballyadam Park on Tuesday 5th May 2015
Carrigtwohill United 3 Passage United 2
Scorer – Mark Durango 3.
This is one they will remember – on both sides. Another mid-week game, as the league tries to complete the season on time, saw Carrig's U11s take on Passage West for the third time this season. Both previous encounters had gone Carrig's way and there was perhaps a bit of overconfidence in the home team.
However, it was a vastly improved Passage team that was leading Carrig two nil at half time, with lovely soccer being played. Passage were disciplined, well organised, very present in midfield and they kept creating havoc in front of Carrig's goals. Twice in the first 10 minutes, their forwards found the net from close range when the ball was not cleared decisively. Some reshaping of the team after 15 minutes brought Liam Moore at right back and he steadied the ship no end. In fact, he would turn that sector of play around and bring danger up at the other end for the rest of the game.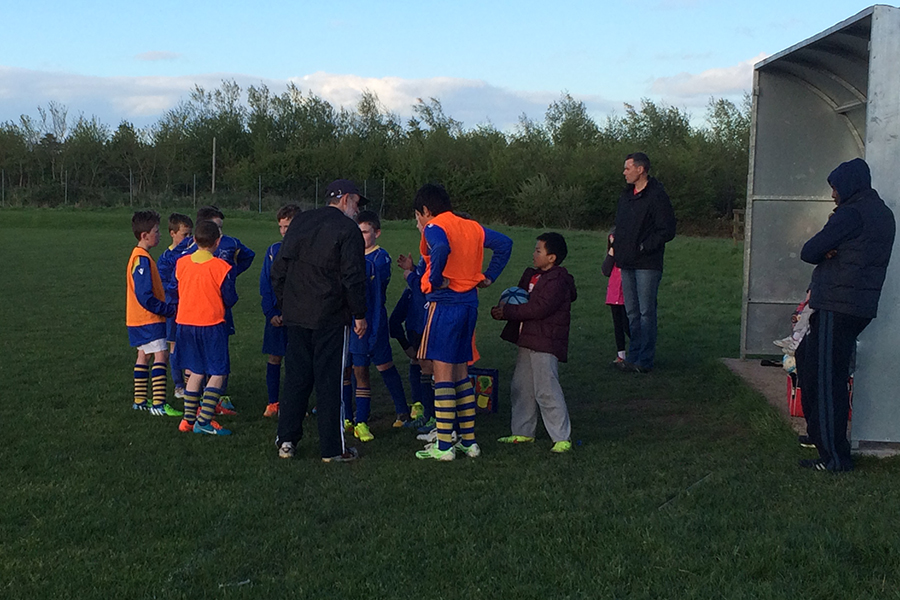 The end of the first half was therefore more balanced, but there was much work to do in the second half to try to get back and salvage something from the game. In came Mark Durango at full forward with the instruction to stay up high and put pressure on Passage's backs. Coaches are not always listened to, but in this instance, Mark would go on to score three goals and give the win to Carrig.
His scoring spree started only minutes in the second half when, with quite literally his first touch of the game, he ran in at the far post to fire in with the left foot from Neil Coughlan's excellent cross from the right. The game was beginning to tip Carrig's way at that stage, but there was still a long wait before Mark grabbed his second goal from close range after Carrig had put pressure on the Passage defence, with only 5 minutes to go. There was even more anxious waiting to do before he managed to get first to the ball to score his third goal in the final minute of the game, denying Passage a draw that they probably deserved. In the meantime, Passage had some great chances all of which were stopped by Carrig's in form keeper Dennis Ogenete. One particular save he produced must have had the Passage touch line staff and spectators wondering what it would take as he somehow scoop the ball out with his hand when it seemed to have rolled under his body.
One final observation on this match is that the Passage West coaches rotated their players throughout the second half, taking off their number 10 who had been causing havoc for Carrig for 40 minutes. These tough decisions are where the rubber meets the road in these age groups and it takes a principled coach to stick to his guns and take a strong player out of a tight game to give a game to everyone. In discussing this after the game, both Carrig and Passage coaches commented on how many such tough decisions must be made on match day throughout the season.
Ballyseedy Home & Gardens Player of the Match : Mark Durango.