League v Ballincollig A in Ballyadam Park on Sunday 24th May 2015
Carrigtwohill United 2 Ballincollig A 5
Scorers – Darragh Ymedji (Pen), Dave Williams.
On a day that involved a clash with another sporting event, Carrig's U11 fielded an interesting team albeit with only just 9 players in attendance.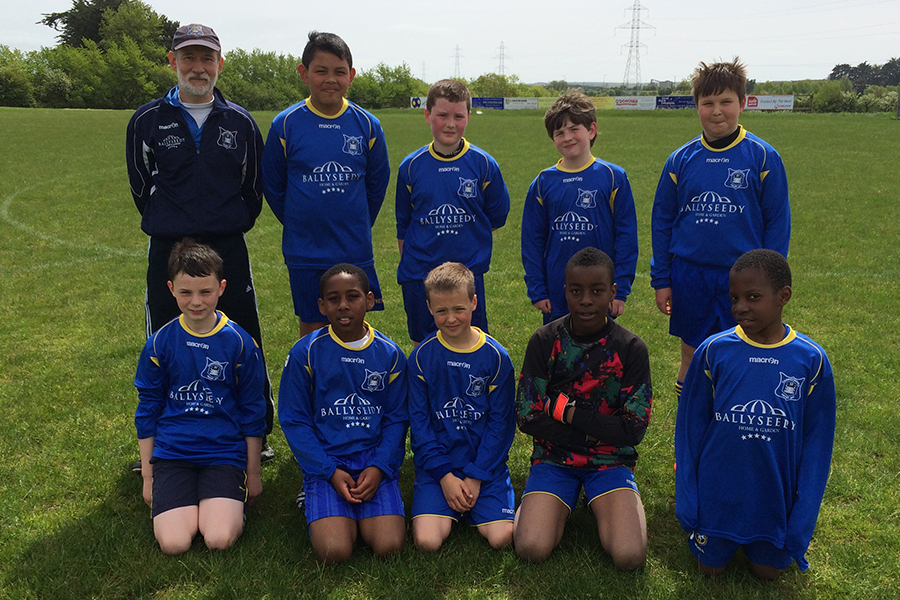 Ballincollig started the game well and went 1 nil up when a penalty was awarded to them for hand ball. Carrig, however, were beginning to find their feet and began to play very well, passing the ball up the wings on both sides where Darragth Ymedji and Luke McCarthy ran forward to cross the ball into the danger area. It was the former who cut inside from the wing and was taken down on his path to goal. Darragh fired the resulting penalty with confidence to tie the game.
Thereafter, Carrig began playing better and better and sustained pressure on the Ballincollig defense allowed Dave Williams to pounce on a loose ball and fire into the roof of the net in emphatic fashion. This was a great way to score his first goal for the club and a just reward for his very committed performance in midfield. Carrig seemed to have much more in the tank and things were looking very good at that point.
The second half, however, was to bring some new factors. Ballincolllig made a number of substitutions that turned the game around. Three very strong players came into their side in the middle of the field and started playing off each other, Carrig being stretched in their defending. After a while, with no subs on the bench, Carrig's midfield and defense began to tire. There seemed to be a clear gap in quality to Ballincollig's subs and they score 4 goals in quick succession to make it 5 -2.
Carrig kept competing and this was great to see for parents and coaches, but there was no way back in this game.
Ballyseedy Home & Gardens Player of the Match : Dave Williams.