Carrigtwohill U12A – 1
Glounthaune – 3
Glenmore Park 31st March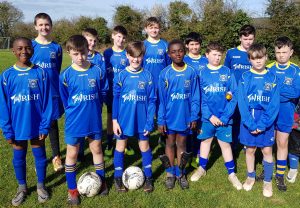 This was the return fixture against Glounthaune United, who are top of Division 5 presently.
After being heavily defeated last time, Carrigtwohill wanted to show that they have improved since then.
The boys started with great intensity and good attacking football using the wings effectively.
The opposition soon knew that Carrigtwohill were there to compete. Glounthaune went 1 up after 20 min. However, Carrigtwohill were sending some great balls into the box and a deflected cross went in off their player to make it 1-1 at half time.
Having 5 substitutes Carrigtwohill made changes and continued on as they had in first half.
Glounthaune had some very strong physical players and scored again despite several chances and a free kick that could not be converted at other end.
The home side scored again to make it 3-1 this time an own goal. The coaches were very proud of the lads and they went home buzzing from their excellent performance.
Player of the Match: Kevin Jones