Under-12
Carrigtwohill – 1
Riverstown – 0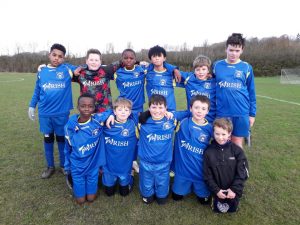 This was a very evenly balanced match as both sides were missing some key players on the day. Carrigtwohill started under pressure from a Riverstown side that looked superior in possession, but they did very well to keep it tight at the back, digging in to frustrate their opponents.
It was not long before Cian in goals was called into action when a looping shot from the ever threatening right sided Riverstown winger was diverted just outside the upright.
Meanwhile Rolie Durango, put Sebastian in one on one with the keeper before shooting wide. Carrigtwohill started to gain momentum before another good exchange between Daniel Cunningham and Rolie put Leslie through at the near post, who unfortunately found the side net when the keeper looked well misplaced out of his goal.
Then, it was Riverstown who took the game to Carrigtwohill – this time on the left wing where Brian Healy won most duels.
In the second half, it was Carrigtwohill who looked more dangerous going forward when Rolie and Amany in midfield won most of the battles getting cover from both flanks from Leslie and Daniel. Once again Seb got another chance through the keeper who did well to come off the line and thwart his effort.
Carrigtwohill conceded a series of corner kicks when Brian Healy was kept busy by a skilful Riverstown left winger. From the resultant pressure Cian was called into action twice when he successfully parried the ball to safety.
However, the breakthrough came when Seb, who looked like he was in an offside position cut in a pass to Leroy who did well to shrug off a defender before rounding off the keeper to score the only goal of the match.
Riverstown sensing defeat threw everything at Carrigtwohill and to be fair to them, put together some good passes that showed why they are a premier division side. They met a resolute Carrigtwohill side that battled for every second ball in midfield.
In a game where they missed their inspirational captain Colm Harte, Jayden stood in very well playing a sweeper's role covering for the wing backs each time the opponent played the ball over the top.
A decisive moment came, when Cian O'Rourke once again, bravely dived into the opponent's legs to make a save when the striker was just about to pull the trigger.
A clean sheet and a fine goal made this a well-deserved result in which Cian O'Rourke thoroughly deserved the Man of the Match award for making three or four decisive saves.
Player of the Match: Cian O'Rourke