League v Springfield Ramblers A in Ballyadam Park on Sunday 5th February 2017.
Carrigtwohill United 3 Springfield Ramblers A 0
Scorer – Ronan Ymedji 3.
The Carrigtwohill squad and coaches had been eagerly looking at weather forecasts all week and it was looking good after a fine dry day on Saturday. However, on Sunday morning, Ballyadam Park was covered in white frost with two sets of coaches and players patiently waiting for it to thaw out. Top marks to the emergency linesmen who had to urgently re-line the pitch prior to kick off !
With the match kicking off 20 minutes late, it was evident quickly that this was not going to be a day for neat passing interplay as the pitch was quite heavy and slow. However, it was to bring out the best battling attributes in the players. This was to be a very good performance from Carrigtwohill against a good Springfield team with both teams starting the match on equal points on the table.
Carrigtwohill were pressuring Springfield relentlessly down the left wing with Robert Adam causing all sorts of problems and winning a succession of corners. Both James Barry and Darragh Crowley both came close from corners but it was proving difficult to break down the two Springfield centre backs who were performing well. However, the first goal came just before half-time when Ronan Ymedi, starting up front in a changed formation, stroked the ball home after some clever footwork in the area.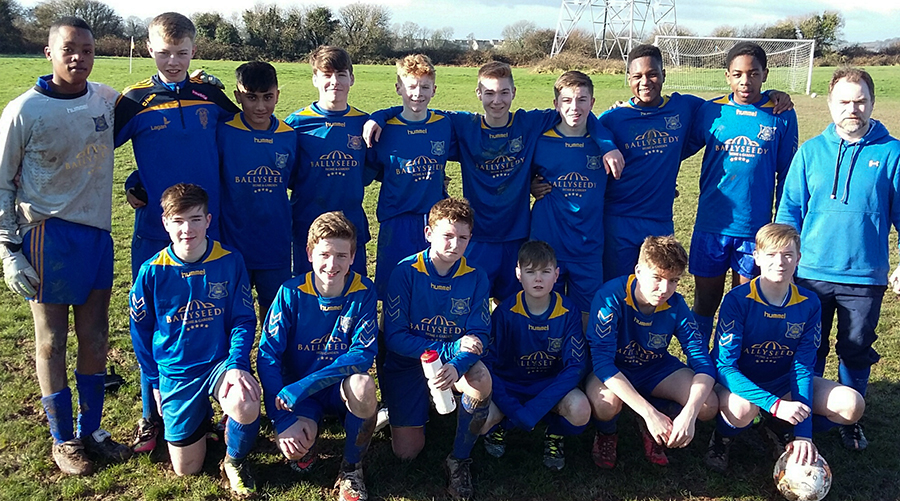 The second half was to follow the pattern of the first with Springfield being penned in their half as Carrigtwohill looked to push on in search of more goals. The defence was being superbly marshalled by Alex Canty at centre back ably assisted by Darragh Crowley and up front chances were being created with Darragh Hoare and Anesh Swani in particular coming very close on occasions.
James Barry was having a masterful game – controlling the midfield, covering ground, tackling and providing the out ball for our wingers. However, this was going to be a day when Ronan was going to grab the plaudits with two more goals to complete his hat-trick. After a trade-mark lung bursting run into the penalty box, Darragh Hoare had a shot saved but it was Ronan who was on hand to tap it in. His next goal was going to be no tap-in. A superb individual effort as he took on two defenders and coolly slotted the ball past the keeper to make it 3-0
With exactly half the league matches played, this was a refreshing performance which bodes well for the second half of the season and is just reward for the hard work being put in during the winter months.
Player of the Match – Ronan Ymedji.