League v Kanturk in Gurteenard on Saturday 11th April 2015
Kanturk 3 Carrigtwohill United 3
Scorers – Richard Silvos 2, Darragh Hoare
This was a "must not lose" match for Carrig's Under 14s, away to Kanturk, as table toppers Passage West are pulling away from everyone else in the division. A clash with other sporting events meant that the U14 panel was depleted. This was sorted out with some reinforcements from the U13 panel, always at hand to help out (front row in the team picture).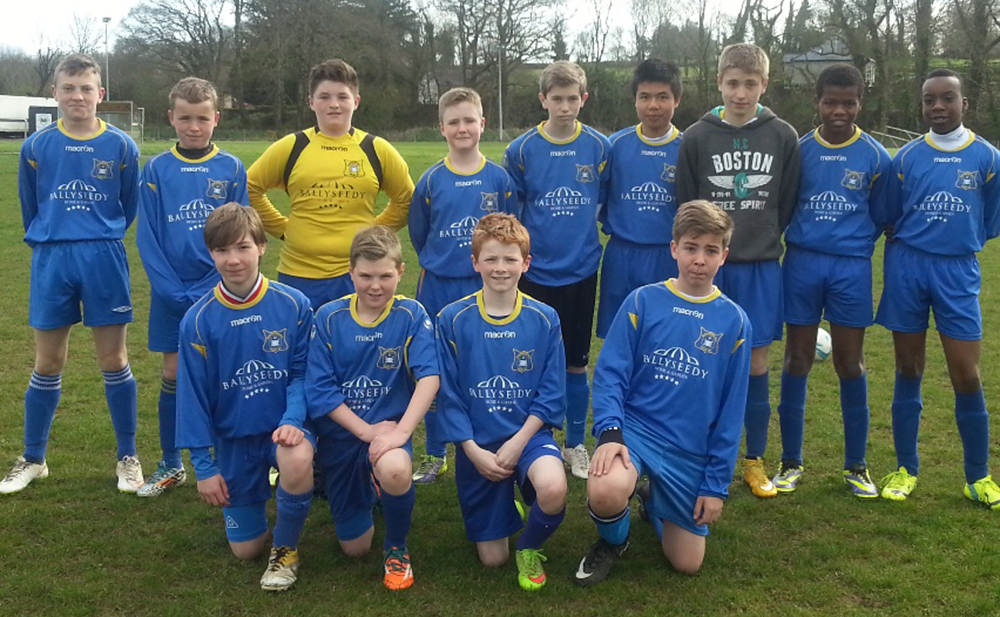 Both teams played well and delivered an entertaining match in ideal conditions. The scenario for this one was stable for the whole match: a big hard battle for the midfield with pressure from both sides and loads of space to run into behind both defenses. In the first half, Kanturk seemed to have more of the ball, but Carrig were more dangerous on the break, consistently managing to outpace the Kanturk defenders. In the end though, it was Kanturk who took the lead with a thunderous volley from a well taken corner kick. Carrig had more chances and the equaliser came before half time when Richard Silvos won his one on one with the Kanturk keeper.
The second half could have been Carrig's, but it was not the case as Kanturk applied sustained pressure and went 2 and then 3 to 1 up. Beyond the scoreline, it was really the manner in which Carrig lost control of the football that was worrying. Over the next few minutes, Carrig seemed to going backwards through the match when Darragh Hoare broke free from the halfway line and keeping his composure, beat the keeper from close range. This was the inspiration that the visitors were looking for and within 3 minutes, Carrig were level again with Richard Silvos finding spare to run into to dribble past the keeper and roll the ball in the empty net.
This was a spirited come back from Carrig to make sure there would be no regrets, although arguably, that match could have been Carrig's – but it came very close to be Kanturk's too.