Under-11 League v Youghal United A on Sunday 31st August 2014
Youghal United A 4 Carrigtwohill United 5
Carrigtwohill Scores: Piaras Fitzpatrick, Darragh Ymedji, Neil Coughlan, Eric O'Sullivan & Luke McCarthy
Carrig's U11s opened their 14/15 season with a visit to Youghal. In their first league match ever, the team performed extremely well, with excellent passing at the back as well as up front. For a long time, it was end-to-end stuff but the score was still nil all, largely thanks to man of the match Adam Rooney in goals who turned away everything that Youghal had in store. This was to change however, after one of Youghal's forwards launched a rocket that rattled the upright, and soon after, Youghal scored two in rapid succession. Carrig's youngest schoolboy team could have folded at that stage, but that really did not happen as Piaras Fitzpatrick and Darragh Ymedji both found the net to reap the rewards from Carrig's good attacking moves. That made it 2 all at half time.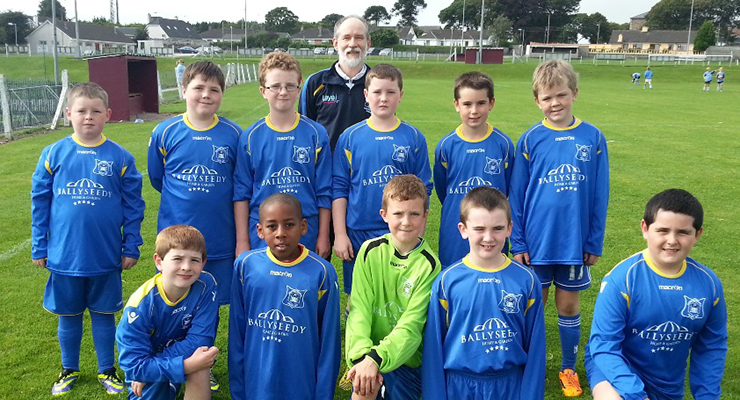 Several changes later, play resumed and Youghal were the most effective in front of goal, going 3-2 up. But again Carrig equalised from a marvellous Neil Coughlan free kick which, from 25 yards out, beat the Youghal keeper under his crossbar. Youghal however, had other ideas and they went 4 -3 up again, also hitting the crossbar and the post on two occasions in the process. Having survived the onslaught, Carrig went into top gear in the last 10 minutes of the game. First Eric O'Sullivan dribbled his way through Youghal's defence to drill the ball in from close range and then, there was time for Luke McCarthy to pounce on a bad clearance to blast the ball in past the keeper. At the very end, Youghal got a dangerous free kick which breezed over the bar to leave the score at 5-4 for Carrigtwohill.
The thorny issue of picking a man-of-the-match remained….with half a dozen players well deserving of the accolade. In the end, the coach's choice fell on Adam Rooney, on the basis of his heroics in goals in the first half, matched by his tireless performance in the centre of midfield in second half.
Ballyseedy Home & Gardens Man of the Match: Adam Rooney