League v Macroom in Murrayfield on Monday 27th April 2015
Macroom 4 Carrigtwohill United 1
Scorers – Darragh Ymedji.
Midweek matches are always that little bit more difficult, but there is nothing like a 7 pm kick off in Macroom with everybody at sixes and sevens to try to make it on time. In the end though, the travel to Macroom took a mere 35 minutes and there was a full hour before kick-off.
When the match finally started, Carrig were in fine spirit and more than a match for Macroom. In fact, for the first 28 minutes, Carrig were well on top, threatening time and time again, without being able to score. Macroom were well organised at the back and their number 5 seemed to be positioned to cut across every ball that was played forward. Then, a corner ball that was allowed to come through the middle of the 18 yard box gave an easy tap in to Macroom for the opening goal. It was not entirely against the run of play since Dennis Ogenete had been the busier of the two keepers, but he had performed his usual magic saves up to that point.
The second half saw Macroom really upping the tempo and putting Carrig under pressure. This yielded no reward however as the back three lead by Oisin Lynch held well, not always as fast as Macroom's forward, but always determined to get back to recover and tackle Carrig out of trouble. Cian O'Riordan on the left and Mateusz Karwellis on the right were indeed on their best behaviour for that match.
Cruelly, there would be no equaliser for Carrig and it was Macroom who pulled away with two killer shots from 20 yards out, one from each side, which came down into the opposite top corners. Even Dennis could not save these ones. Carrig pulled one back and again there was renewed belief in the team, but Macroom got one last goal in the dying minutes to kill off the contest. Two teams that battled hard for an hour, with one getting four goals and the other getting only one. As Thierry Henry said a few years ago: "Sometimes in football, you have to score goals to win matches". This was indeed one of these days.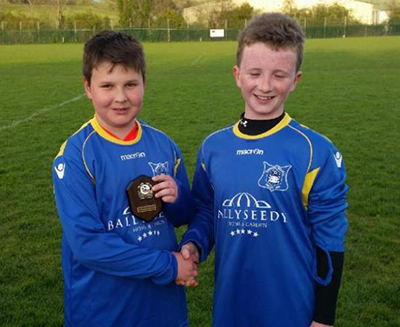 At the end, there was time for a little celebration of one player's achievement: Mateusz Karwellis receiving player of the month from team mate Neil Coughlan for his overall progress since joining the club a few months ago.
Ballyseedy Home & Gardens Player of the Match : Oisin Lynch.