League v Springfield Ramblers in Ballyadam Park on Saturday 28 March 2015
Carrigtwohill United 3 Springfield Ramblers 3
Scorer – Zach Griffin, OG, Patrick Walsh.
Another training match to prepare the U10s for next season when they move up to the Cork Schoolboy League. This was a proper 9-a-side, small sided pitch encounter and the opposition was neighbouring club Springfield, who were similarly looking to prepare for next year.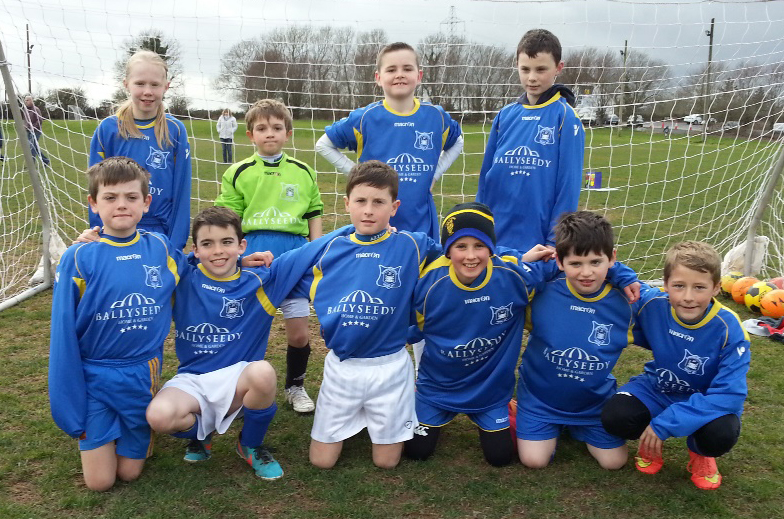 In conditions that were made a bit difficult by a strong wind, both teams played at a fast pace for over an hour. You can tell that the coaches have more work to do to put the teams in place, especially the back lines where players don't always know where or when they should move, but one thing that is already there is the desire to go forward and win! The coaches won't need to do too much about that, as these two groups of players ran their socks off for the whole match.
Strangely enough, the first period of play yielded no goals, that was despite Carrigtwohill being well on top, helped by the strong wind and having a number of definitive goal chances, but Springfield were defending like lions and their goalkeeper was particularly inspired, saving with the hand and the foot several times.
In the second period of play, Springfield capitalised on the wind advantage and managed to break the Carrig defence twice in 5 minutes and it seems Carrig were in trouble, but the Ruairi Adam competed for the ball on the left wing and broke free, his cross caught the defence and the goalkeeper and Zack Griffin was on hand to tap the ball into the net. Soon after, the match was level when Patrick Walsh drove the ball forward in his characteristic style. He was taken down as he approached goal and the ref was going to blow for a free kick, when the ball follow its course into the Springfield net.
In the final period of play, neither team was showing any sign of tiredness despite the difficult conditions and heavy ground and both were still pushing on, Patrick Walsh recovered the ball on the left and dribbled his way through the defence before unleashing an unstoppable shoot from close range. The game would not stay at that however, as Carrig conceded a penalty which Springfield converted.
There was loads more action, but no more goals and the draw was a logical outcome, There was time for some very entertaining penalty taking where the crossbar and the goal keepers stopped an uncanny number of attempts! Another great day in Ballyadam.
Ballyseedy Home & Gardens Player of the Match : Patrick Walsh.