ONLY 2 DAYS TO GO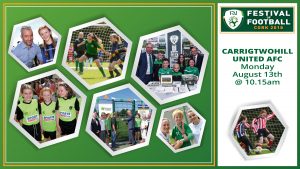 In conjunction with the first day of CUFC Academy camp 2018 we are pleased
to announce the CUFC will host the FAI opening visit of the festival of
football in Cork. It a great honour for us and would like to invite anybody
that can make it to come along to the open day in Ballyadam.

I'm delighted that the FAI will be bringing the Festival of Football and
AGM to Cork this year. Grassroots football is the foundation that we build
everything else on and Cork is one of the most impressive counties when it
comes to development, administration and volunteer work at grassroots
level,"

"There is fantastic footballing heritage in Cork with administrators like
Donie Forde and Pat O'Brien, top class coaches like our current Ireland
Under-17 head coach Colin O'Brien, and, of course, excellent players like
Noel Cantwell, Roy Keane, Denis Irwin, Denise O'Sullivan, Megan Connolly
and David Meyler.

"A huge part of the Festival of Football is celebrating what has been done,
recognising achievements, but also looking ahead with developments such as
the Centre of Excellence in Glanmire. It is an exciting time for football
in Cork.
"Since 2007 we have been able to visit different counties as part of the
Festival of Football roadshow and it is a great way to connect with those
making a difference in the development of our game. We look forward to
visiting Cork in August for the Festival of Football and also our AGM."
Hope to see you all there
John Delaney (FAI, CEO)