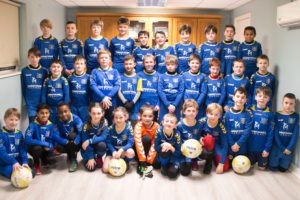 Turners Cross – 14th Feb 2020
It was an extra special Valentines' night for the 45 members of the Under-10 squad as they were the half-time match at Turners Cross during the Cork City's league opener at home to Shelbourne FC.
This was an evening to remember for the boys and girls which started with a pre-match meal at ThaIrish in Carrigtwohill before boarding the bus to Cork.
They travelled by bus to Cork and were very well received by the staff at Turners Cross who had a seating area ready for them, flags, and a match programme.
They played out 4 small sided matches and the large attendance was most impressed by their effort and skill on the night – well done to one and all.
Carrigtwohill United would like to thank Cork City FC for facilitating the visit and the coaches who organised the trip.