Under-18 Division 2
12th Sept 2020 at Tramore Park
Tramore Athletic – 1
Carrigwohill United 2
Scorer: Darragh Ymedji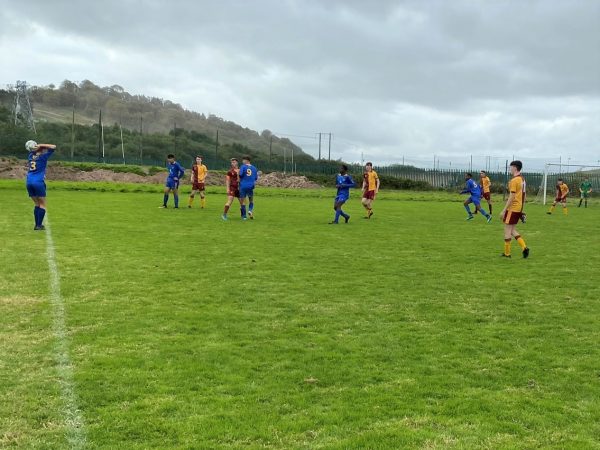 After a comprehensive win on the first day of the season, the Under-18's had dropped 3 points against Castlebridge last time out after conceding a goal in the final few minutes of the match.
They headed to Tramore with depleted squad with the bare 11 players taking to the field at kick-off.
The first half was a nervy affair, with both sides defending well. Carrigtwohill had the better of the possession and created a few chances none of which were easy. Tramore meanwhile played a more direct style and were testing the centre defensive partnership of Ronan and Henry on the break.
In the second half, Carrigtwohill started to create more chances, with Mobaraq and Darragh going close and Dawid a constant threat on the left wing. This was a tough match with both teams giving their all and it was Tramore than took first blood when their striker scored with a neat header from a long range free kick.
The visitors to their credit, kept going and got their reward when the Tramore keeper, under pressure, punched a ball clear and Will was on hand to finish nicely to tie up the scores.
With just 10 minutes left, it was all to play for and with 3 point up for grabs, there was a Cup feel to this match now. More drama as Ronan McCrave had to come off after getting injured in goal-saving tackle, and with an empty bench the visitors were down to 10 men and had to solider on.
It was a case of playing it safe at this stage – 1 point is better than none of course, but Darragh Ymedji had other ideas. After a probing run on the right side of midfield he took a superb shot which nestled in the top left hand corner of the net to win the match in the 93rd minute.
There was just enough time to kick off again and put the ball out for touch and Carrigtwohill headed home tired, wounded and sore but happy with a hard won 3 points
Player of the Match : Ronan McCrave