Best of luck to the 19 players and 10 adults travelling this weekend.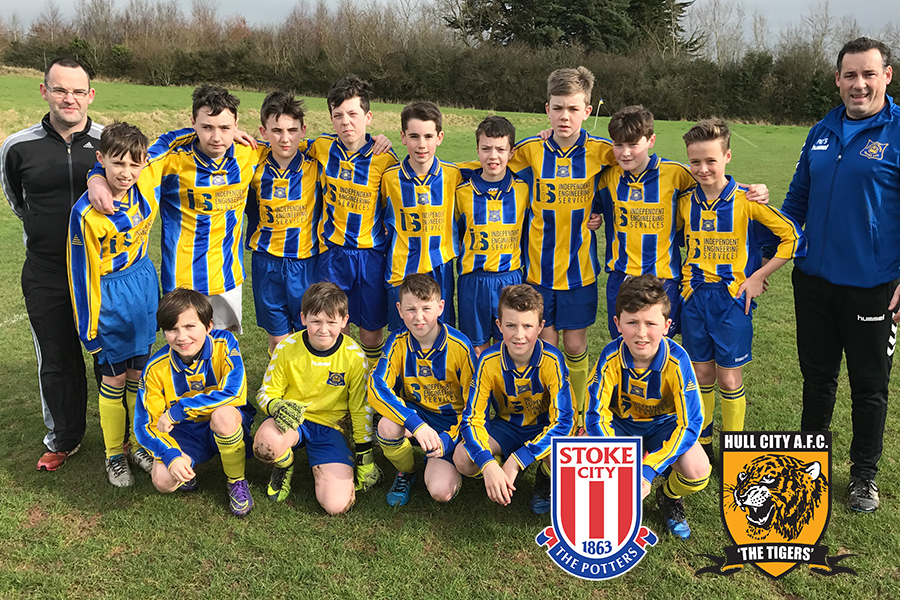 Day 1 – Friday 14th April 2017
03.45hrs Depart Community Hall.
07.15hrs Arrive North Wall.
08.05hrs Depart North Wall on Irish Ferries 'Ulysses'.
11.45hrs Arrive Holyhead.
14.30hrs Arrive Trafford Centre.
15.45hrs Depart Trafford Centre.
16.00hrs Arrive Old Trafford – Stadium Tour at Old Trafford
18.00hrs Depart Old Trafford.
18.45hrs Arrive at the Britannia Hotel, Daresbury. – Dinner
Day 2 – Saturday 15th April 2017
09.00hrs Depart hotel.
10.00hrs Arrive Festival Park – Stoke-on-Trent. Free-time at Festival Park
11.45hrs Depart Festival Park.
12.10hrs Arrive Stoke City Powerleague – 60 minute coaching session by Academy Coaches.
14.15hrs Arrive Britannia Stadium – Stoke City v Hull City. Group to be flag wavers at the start of the match.
17.15hrs Depart the stadium.
18.30hrs Arrive hotel and dinner.
Day 3 – Sunday 16th April 2017
08.30hrs Depart hotel.
09.00hrs Arrive Arncliffe Sports Centre, Halewood – Friendly match at Halewood.
11.15hrs Depart Halewood.
13.10hrs Arrive Holyhead.
14.05hrs Depart Holyhead on Irish Ferries 'Ulysses'.
17.25hrs Arrive North Wall.
21.00hrs Arrive Community Hall.