Kevin Dillion Cup v Passage United in Passage on Saturday 27th September 2014
Passage United 3 Carrigtwohill United 5
Scores: Mark O'Connor (2), Darragh Ymedji, Mark Durango, Eric O'Sullivan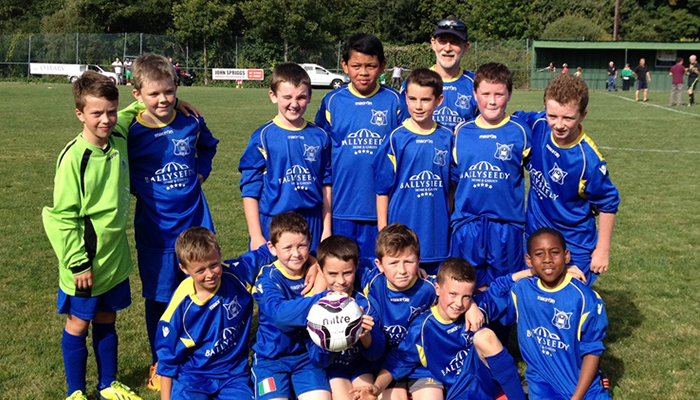 Cup matches are always a bit different because the result is always immediately significant – go on or go out! So the trip to Passage West on a glorious Saturday morning – so glorious that it was really out of kilter with the time of year – was a real treat for parents, players and coach. Ultra motivated by the cup atmosphere, both teams went into high gear from the outset, with Passage particularly on song going forward, helped by their very fast wingers. Their pocket rocket #6 in particular proved a handful on the right wing, where Piaras Fitzpatrick was kept busy, never losing touch however. Equally busy was Adam Rooney in goal where he produced a couple of quality interventions to keep the score at nil all. This was a strong Carrig team however and Mark O'Connor soon made Passage pay their failure to clear the ball by jumping onto a loose ball and opening the scoring. Carrig were now more dominant, but Passage came back to one all relatively easily on a goal kick gone wrong. Soon after, Carrig found space to attack into, notably on the left wing where Darragh Ymedji ran riots for the entire match. It was him who put Carrig back in front, penetrating freely on the left side to fire past the keeper. Mark O'Connor had more chances and was very unlucky to see a glorious side footed drive sail inches from the left upright. He would get his reward before half time, putting Carrig 3 -1 up however.
The second half was similar to the first one with both teams well matched. Carrig's defence however were losing their concentration and, a corner ball that just would not be cleared somehow found its way in the net for 3-2. Carrig did not lose the head however and Mark Durango made his presence felt upfront, holding the ball well and passing with great vision. When Carrig got the first of their two penalties, it was him who took the shot, which was well parried by the Passage keeper, only for the ball to fall back to him, which he duly chip into the net at the second time of asking. There was time for Eric O'Sullivan to confidently score Carrig's second penalty, whilst Passage could only convert one of the three awarded to them. In total, five penalties were awarded in this match and this was a surprise given the excellent spirit and the great skill levels displayed by both teams.
Carrig are now through to the 3rd round of the Kevin Dillon Cup where they will play College Corinthians B.
Ballyseedy Home & Gardens Man of the Match; Darragh Ymedji