Challenge v Corkbeg in Carrigtwohill All Weather on Sunday 11th February 2018
On a cold snowy Sunday, our U11s faced Corkbeg in a friendly at the Carrigtwohill All Weather Pitch. There were 3 teams of 7 asides. On pitch 2 our lads started slowly with a shaky first half where some players struggled to settle in unfamiliar positions. The match went to half-time with Corkbeg leading comfortably. Our lads came back strongly in second half to cancel out the deficit despite playing uphill. A fresh defensive partnership of Jayden Washeka and Amany stood resolute in second half to keep a clean sheet in a game where Colm Harte weighed in with a goal after a good workout from Rolie Durango who also scored 2 goals, one of which was a good left foot finish. A goal of the day came from a free-kick taken just outside centre circle by Jayden but Brian Healy's solo near post finish was typical of an inspired goal-getter. Great finish to an exciting game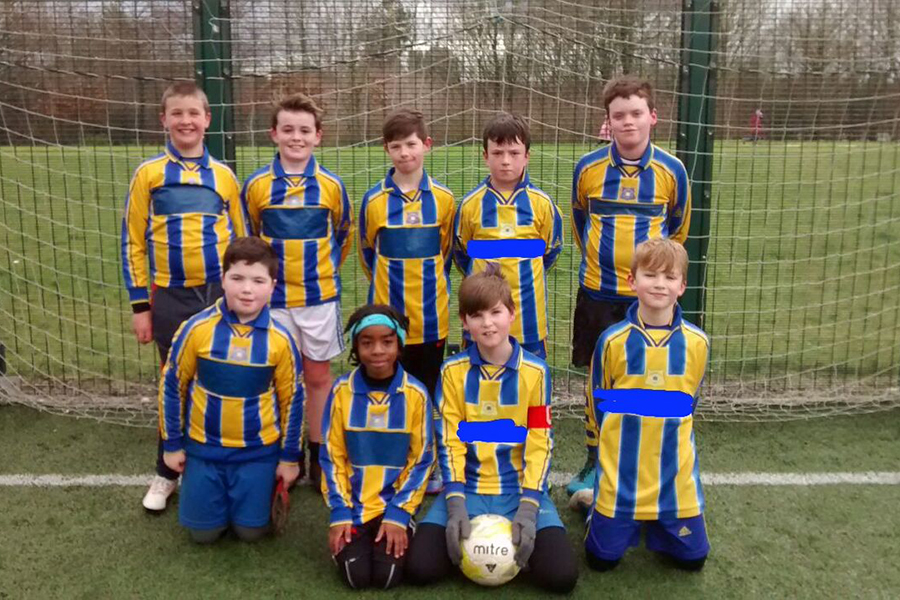 On pitch 3 the shape was excellent. Jack Maher made 3 outstanding saves, classic goalkeeper dives. Daniel McCarthy and Padraig Bolger were great holding positions at the back-line with Rory Dolan sitting in front of them, we were at our best. Daniel Cunningham did well in defence when swapped around with his namesake Daniel McCarthy. Kevin Jones had his shooting boots on when he grabbed 2 early good goals to cap it with a hat-trick in a day where we needed some magic to control the game early on. Ende Cungulo put in a great shift in midfield. Daniel McCarthy and Rory had some nice inter-play passes throughout. In particular Daniel McCarthy was a constant threat going forward.Ryan and Adam weighed in with spirited performance too in a day that had no moaning.
In the other game captained by Alex Lombard, Corkberg had their hands full despite edging us out. We had a spirited come back in first half to go level at half-time. There was constant swap in positions that saw John Crowley starting in goals before swapping around with Sebastian. On a day where captains led by example Alex Lombard put up a brave defensive line with the help of Jakub to win himself a Man of the Match award.
Player of the Match; Alex Lompard, Jayden Washeka and Kevin Jones.