Under-13
18th May at Togher
Everton – 2
Carrigtwohill – 2
On Saturday, the Carrigtwohill Under-13's travelled to Everton in Togher for an early morning league fixture. The early start meant that the fresh dry conditions were ideal for football.
After great runs in both cup competitions – reaching the last 16 in each – the past week's tough defeats in both to higher division teams meant that this fixture was all about rejuvenating the moral of the squad and getting back to competitive league football.
With an unfamiliar team set up, Carrigtwohill made an understandably nervy start and as the game progressed, they started to grow came close to getting the opening goal. However, against the run of play on 17mins, Everton took the lead with a very well taken headed goal, after a good cross from the left.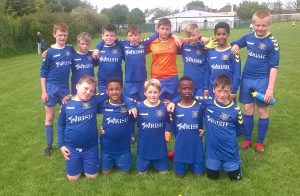 To be fair to Carrigtwohill, they raised their game, with good work on the wings by Alex & Akrum, supported by Amany & Josh through the middle. In the 22nd minute the pressure imposed by Carrigtwohill paid off, when a nervy long back-pass by Everton was chased down by a very hard working Evan and after rounded the keeper, he finished brilliantly from a tight angle. One all at half time.
Carrigtwohill started strong again in the second half, with Jayden, Corey, Robbie & Cathal standing strong at the back, supported by goalie Filip who was very positive all throughout the game and commanded his box. On the 40th minute, after some very good attacking play involving Matty, Denis and Callum, the ball fell to Evan outside the box and with a well taken shot, he beat the keeper for the second time. Two –one to Carrigtwohill.
Everton came back into it and with ten minutes to go, they got another goal from a header. Everton pushed hard for the winner and sensing their height advantage on the day, threw loads of long high balls into their attack. But Carrigtwohill stood strong and were unlucky not to add to their score from some good break outs. Two all it finished, which was a fair result on the day.
A very good team performance all round and well done to the Under-12 lads Jayden, Amany, Denis & Alex, many of whom played their second away game in less than 18 hours. While there were some very good individual performances on the day, notably Corey's solid display at the back, Josh's energy in midfield and Evan's tireless goal scoring work up front, Man of the Match award has to go to the whole squad for what was a great all round squad effort and result.