21st Oct at Blarney
CUFC u12 V Blarney United A
Score : 4-2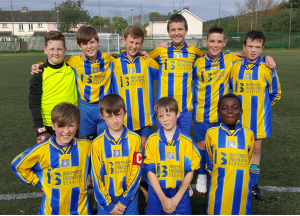 The Carrigtwohill United A team travelled to Blarney in their 4th league match of the season, having yet to record any points in the league so far.
The match was played on astro so we knew it was going to be a fast paced game.
The Carrigtwohill boys started well, with some great possession going forward. It wasn't long before they scored with an excellent ball through to Kian who slotted it away.
This good start really helped to drive the boys on and be first to most balls and within another few minutes they scored a lovely team goal with Noah breaking away from the defence and calmly slotting ball past their keeper. Two goals up at half time
Having never been in this position in a league match, they needed to stay calm for the second half. With constant pressure in the opposing box Fionn snatched a goal from close range to make it 3-0.
Blarney started coming at the visitors and creating a few chances. The referee spotted a handball from a defenders while clearing the ball and awarded a penalty. Goalkeeper Cian guessed right way and saved the penalty but they scored from the rebounded ball.
Once again blarney came at Carrigtwohill with a ball through their defence and scored again making it 3-2 with 10min to go.
No one panicked too much and in a moment of brilliance Daniel Mc lobbed their keeper with a high long distance shot.
Game over. 4-2 win for our Carrigtwohill
Man of the Match: Kevin Jones